Make your breakroom a place for "feeding" your company's community, productivity, and brainpower.
Food could be a universal love language. At least that's the theory at some of the world's most successful companies. Tech giants provide the convenience of fresh food as a perk of employment. Not only have these companies succeeded in becoming leaders of the digital age, they may have unlocked the true secret to employee satisfaction.
You can offer the same to your staff with a micro market in your breakroom.
Employees can choose from an assortment of items:
Fresh salads to seasonal meals
Frozen specialties to gluten-free and protein packed items
Traditional snack and beverages
Fast, convenient, and variety can lead to happy employees. And happy employees can remain focused and energized throughout the day.
---
Flexibility and convenience
Avanti Markets can offer multiple ways to pay.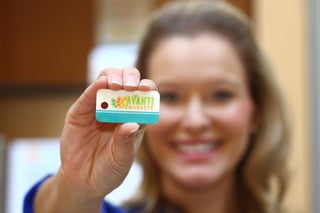 Avanti Market cards
Fingerprint payment accounts
Tap and go mobile
Payroll deduct
Employee meal allowance
Maintain more than one location?
Large manufacturing facility with "miles" between buildings?
Avanti Markets can "campus" your locations all under one organization.
Have health and wellness initiatives?
There are different ways we can help with that, including healthy product discounting with our two-tier pricing capabilities.
---
The possibilities could be endless when offering the ultimate Employee Perks Package. Schedule your personal consultation today. Click below and we'll schedule to meet and share how a micro market can help foster your lunch community.